TITLE PAGE GERMAN
---
HIS BEST FRIEND

am sure we have all experienced at first hand what great powers of attraction money has for all mortals. Just a few minutes ago, Bobby Box, the poet, had become the owner of 1,000 dollars. That was reason enough to hover around and to pay the greatest attention to this odd young man whom nobody otherwise took seriously. Everybody rushed up to him; everybody wanted to be his friend. Mr Knipperdolling, a tough old hide if ever there was one, was the first to make his way through the crowd and to shake rich Bobby's hand as his "best friend". He led Bobby into his bivouac so as to be able to talk undisturbed, told him some nice murder stories and kept the other friends at bay who were hovering around the camp like moths around the light, stealing glances at Bobby's travelling bag, in which the 1,000 dollars had been stored. Knipperdolling now began to entertain Bobby. He helped him to pass the time with lots of little tricks and feats and presented himself as a real man of the world who knew his way around. He shot at birds in the air, and even if he didn't always get them, it was entertaining just the same. One of his pranks for instance was to try to shoot the clay pipe away from under Bobby's nose.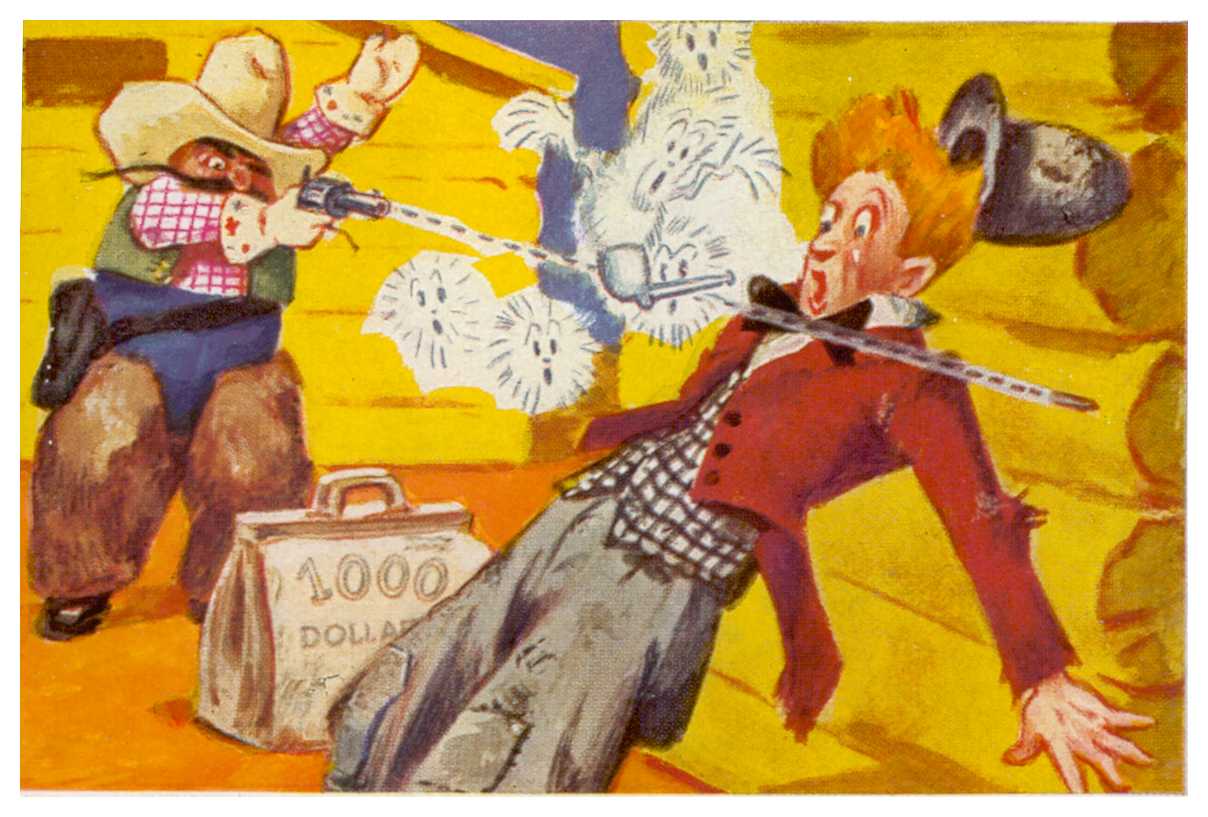 The reason he missed, Knipperdolling claimed, was because Bobby was shaking like a leaf and also because, as Bobby's "best friend", he had to keep an eye on the other friends, as these dubious gentlemen would make use of every opportunity to get at his travelling bag. The endless talk gradually confused Bobby, and he was so flustered that he asked himself a few times: "What are you thinking of?" Of course he was thinking of Marygold, because if he had been thinking about his dollars, it would have been quite clear to him what was going on around him. - But as it was, he just saw shadowy dark figures gliding past, shadowy hands appearing and disappearing, and it was always his "best friend" who seemed to bring some light into this chaos of murky secrets. Nonetheless, deep down inside, Bobby felt an urgent desire to escape from this circle of friends as he was beginning to find Knipperdolling's tricks excessively tedious.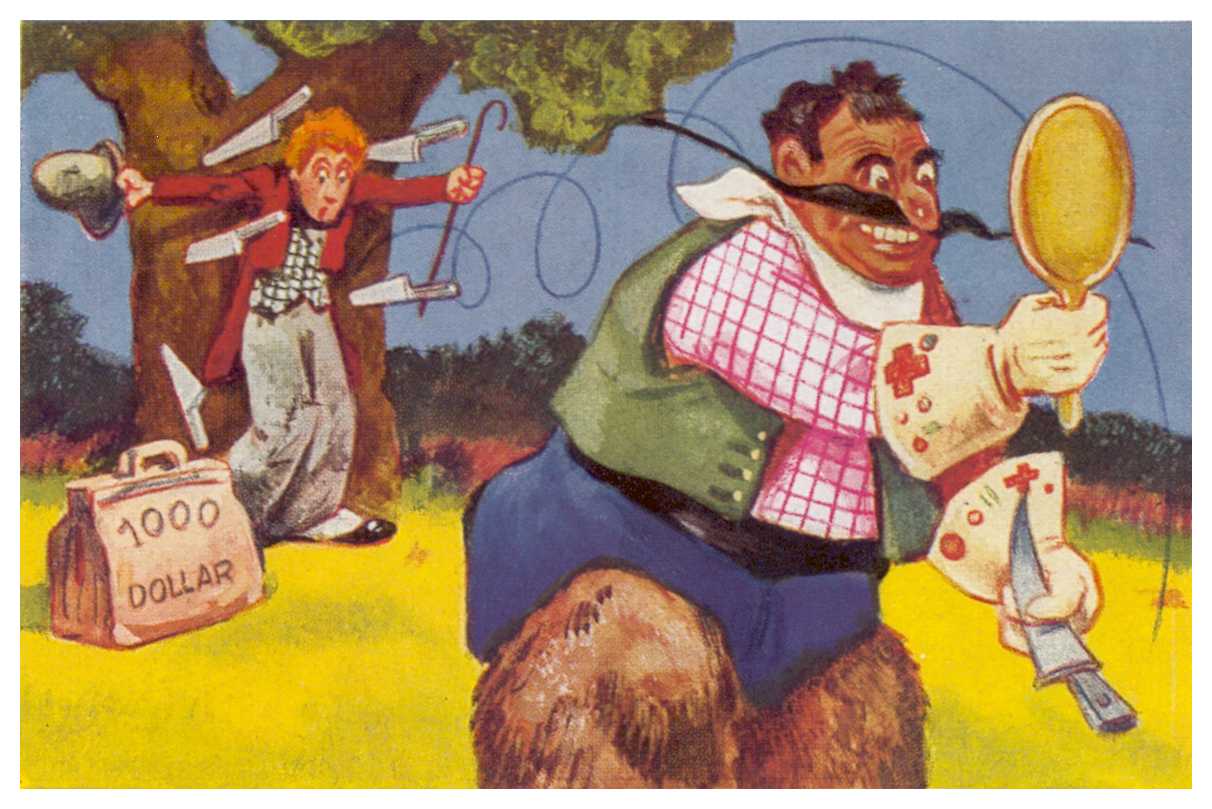 After a bout of knife-throwing, which put Bobby in fear of his life, his "best friend" had just one more party trick, as he assured Bobby. It was throwing the lasso. Knipperdolling sat high up on his horse, his arms stretched out, holding a neatly coiled rope in each hand. Bobby was the most important person for this demonstration, his friend said, so he had to stand up against a wall, thus moving about a yard away from his travelling bag. The loops of the first lasso came flying accurately and symmetrically around Bobby; they became tighter and tighter and he was soon so well parcelled up that he was like a stuffed sausage and unable to move. Becoming faint due to the constriction, the poet sank into semi-consciousness. He thought he was a tightly bound firework whose explosive force could at any moment burst through the container with devastating impact. He saw himself ascending as a flare high up over the clouds into the dark firmament. -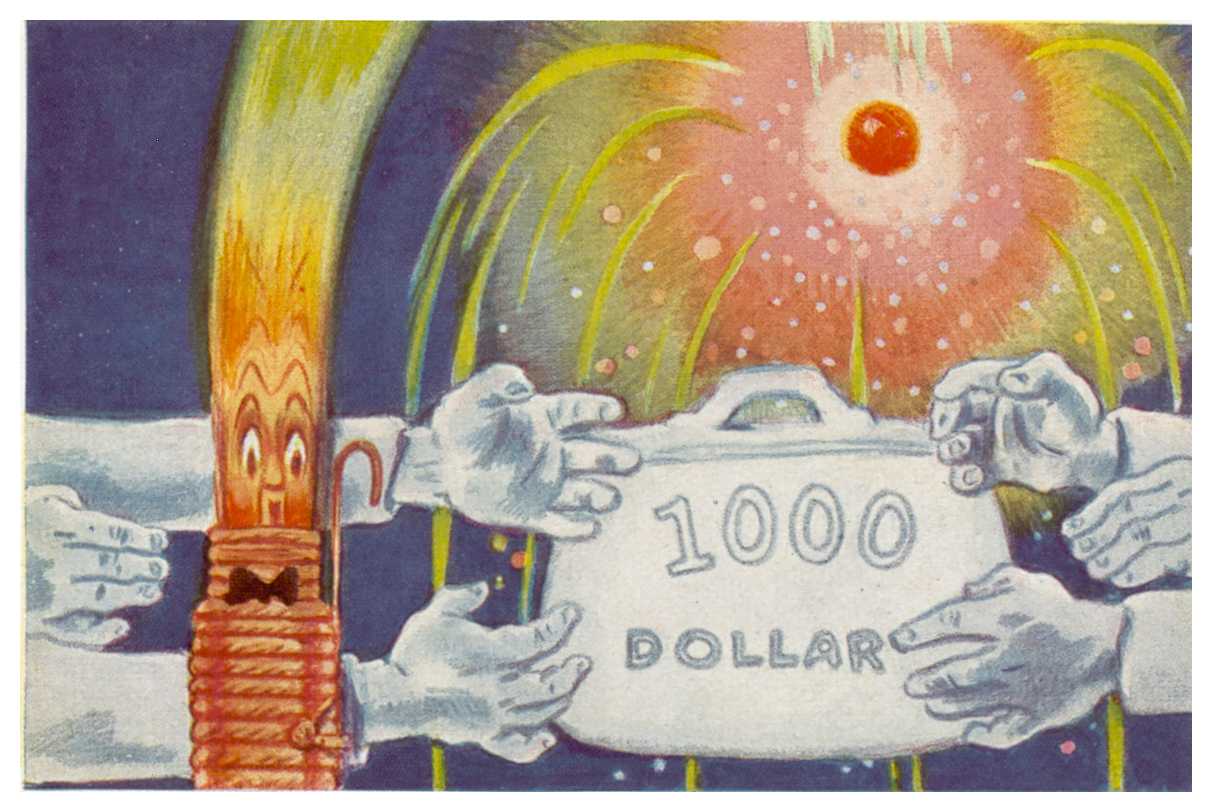 Knipperdolling had meanwhile got the loop of the second lasso over Bobby' dollar bag, tightened it and was just about to spur his horse and disappear with the booty. But the bandit tribe was wide awake. "Fuzzyhead", a daring and foolhardy tramp, shoved his rough hand around the corner of the house, cut the rope in an instant, grabbed the dollar bag and made off with it. But somebody ran up against him at the next street corner: "Hands up!" It was Mr. Jim, gun in hand. Fuzzyhead dropped the bag, put up his hands, turned tail and trotted away. With a satanic laugh Jim opened the bag and reached greedily for the dollar bills. "Him-hem-ham-hum!" he said as he did so. - "Hands up!" Marygold stood before him as though conjured up by magic. She pressed the cold muzzle of her pistol to his nose that had gone white with fear. Now one dollar bill after the other fluttered out of Jim's trembling hands into Marygold's vanity bag. Once all the bills were safe, the girl cried out: "Off with you Jim, you bad man, you!", and Jim crept away like a beaten cur, but with hate-filled eyes and an expression on his face that boded revenge. Marygold quickly jumped into a hiding place. Bobby had more or less managed to disentangle himself from all the ropes, and he now came running to fetch his bag. He found it closed, took it by the handle and went his way without realizing what had happened. - Now nobody put up any further pretences. The whole tribe of bandits pursued Bobby quite openly and a wild hunt began. - "They are all after that filthy lucre!" said Marygold in her hiding place. But she smiled softly, as she had a suitable remedy. She fired as many shots into the air as her big pistol could produce. - Bang! - Bang! - Bang! - Lo and behold the cowardly rascals stood as if rooted to the ground, raising their hands to the skies. - But Bobby hurried on without looking around. After he had marched on for about an hour, he started composing verse again. :
Now it is brighter, let's move on
All this day long the sun has shone.
My head is in the clouds alright,
Even these shoes now seem quite light.
I think of her, the wondrous girl,
How good it is, this whole wide world.
---
BOBBY BOX SIXTH ADVENTURE